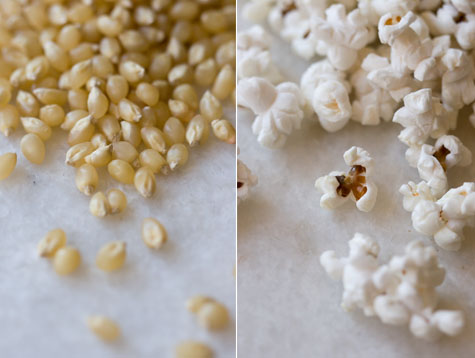 1/2 cup un-popped organic popcorn
1 teaspoon red pepper sesame oil (can't find it? want less spice? any veggie oil will do)
1/2 cup butter, softened (or margarine)
1/2 teaspoon cayenne pepper
1/2 teaspoon sugar (white or brown)
OPTIONS: (add one or more of the following with the butter)
In a cup or small bowl, mix together the un-popped popcorn,oil, and salt.
Pour the coated kernels into a brown paper lunch bag. Fold the top of the bag over twice to seal in the ingredients.
Microwave for 2 1/2 to 3 minutes, or until you hear pauses of about 2-3 seconds between pops. Carefully open the bag to avoid steam, and pour into a serving bowl. Don't over pop, there will be remaining un-popped kernels, that's ok.
While the popcorn pops mix together the butter, cayenne, cinnamon, and sugar. Toss butter mixture with hot popcorn and serve.